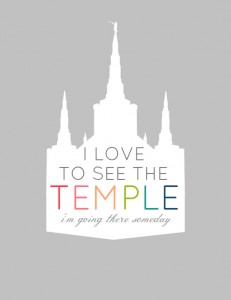 Within eight years or less, The Church of Jesus Christ of Latter-day Saints will allow civil same-sex marriage to members. Another five years after that, the Church will allow same-sex temple marriage.
I've been making this prediction for a couple of years now. With Friday's SCOTUS ruling, it's time for me to go on record.
Seven years ago, I said that gay marriage would be legal in most US states within ten years. No one believed me. It wasn't even a major political issue then, except in California, where they were actively trying to make it illegal. LGBT activists weren't pushing hard for marriage at the time, but I saw that conservatives efforts to actively ban marriage equality would force the issue, and they would lose.
I'm using similar reasoning to explain why Mormon leaders will rapidly reverse their stance. In fact, Mormonism will lead other hyper-conservative, fundamentalist Christian sects on this issue. Evangelicals will take a couple more decades to come around.
This is a daring prediction to make. The LDS Church has doubled and tripled down on their position, leading the fight against marriage equality. They were 50% of the funding behind Prop 8 campaigning, and funded other nationwide efforts to suppress marriage rights. They fought in courts, all the way up to SCOTUS, to enforce the marriage ban. And even Friday, on this historic decision, they doubled-down yet again by issuing a statement, "The Supreme Court will not alter doctrine."
So how can I be so sure they'll do an about-face?
First, I need to briefly describe cognitive dissonance. This is a pressure or drive that motivates us to make all our thoughts congruent. In order to verify our own sanity, we need to feel integrated and consistent. Internal conflicts cause discomfort.
When these pressures build, our minds take the path of least resistance. This path in individuals will collectively chart the course of the entire organization.
Cognitive dissonance on marriage equality has already begun within the Mormon Church, and there is only one resolution. Many members have already taken the side of love and acceptance. They risk excommunication to actively fight for gay rights.
This groundswell division, between members who have resolved their dissonance and those who are only now starting to feel its tingle, is just beginning. The pressure won't let up until the Church changes.
Mormons have one important doctrine that sets them apart from all other Christian groups: Marriage is required for salvation and exaltation. An unmarried Mormon cannot be saved.
Yep. It's true. Marriage is considered one of the four ordinances, or covenants, required to gain entrance into the highest level of heaven. (These are baptism, confirmation, endowment, and marriage.)
These ordinances are so central to LDS doctrine, that they are mentioned (though not by name) in the Third Article of Faith: "We believe that through the Atonement of Christ, all mankind may be saved, by obedience to the laws and ordinances of the Gospel."
The LDS doctrine against gay marriage is the weakest link. It will break under the pressure of pro-marriage and pro-family doctrines.
In Sunday School, we were told that gay sex was a sin because fornication was a sin, and you can't marry someone of your own gender. And why couldn't you marry someone of your own gender? Because homosexuality is a sin.
Even as a kid, I noticed the flaw in this circular logic. Now that marriage equality is the law of the land? This line of thought breaks down completely.
Biblical prohibitions against homosexuality are also weak. Most passages against it are beside other passages that modern Mormons dismiss as "cultural" or "fulfilled by Christ," like Mosaic Law and headcoverings for women.
Mormons have an extra-biblical doctrine, called The Family: A Proclamation to the World, issued by the Prophet in 1996, which stresses that marriage can only be between man and woman. This will not be enough to resolve dissonance for members, because it also reiterates the importance and blessings of marriage and family, which the Church is denying to gay couples.
Another doctrine is already crumbling: That homosexuality is a choice. That gay people have allowed Satan to corrupt their hearts through love of sin.
This vilification is failing within the Church, just as it has in the wider mainstream culture, thanks to the coming out movement. When everyone knows an LGBT person, it's hard to perpetuate the lie that gay people are wicked perverts. When the "enemy" can no longer be dehumanized, it's hard to deny them equal rights.
The coming out movement is arriving in LDS culture a little later than mainstream culture. But it's happening. The results are already showing. In 2013, the Mormon Church quietly launched a website, MormonsAndGays.org, declaring that homosexuality is not a choice, though acting on same-sex attraction is still considered a sin.
Gay Mormons are encouraged either to remain celibate their whole lives, or to enter into a straight marriage. For awhile, MormonsAndGays.org featured video interviews of hetero couples with one gay spouse. (These videos have since been removed.) They were meant to be faith-promoting, but they came across as heart-wrenching… individuals had placed themselves in damaging, painful, impossible situations just for the sake of obedience and social acceptance. This position will not reduce dissonance.
It's clear the Church does not want to be seen as uncompassionate or hateful. Recently, the LDS Church has promoted non-discrimination in employment and housing within the state of Utah.
This will all lead to a cycle where more members come out of the closet, and more families will have to grapple with dissonance. Mormons are encouraged to have huge families, and there even may be more gay Mormons per capita, because the more children a mother has, the more likely one of them will be gay.
Before long, it will be impossible for any Mormon in the US to not know someone who is gay, to not have a gay child, sister, or cousin.
Here's where the pendulum of dissonance tips: Mothers will have to look their gay daughters in the eye and say, "No, you can't marry your companion. The blessings of family and exaltation are denied to you."
They are trying to resolve the dissonance by saying that God will eventually provide, or that it's is a test of faith to build strength. This reasoning will be dashed when parents witness firsthand their children's sorrow. They will watch that daughter lead a lonely life, or worse – watch her struggle to make a family with someone she does not love.
Or still worse, they will experience the heartbreak of seeing their children excommunicated or fleeing the Church for acceptance elsewhere.
These empty answers will ring hollow, just as they did when LDS leaders fought against the Civil Rights movement. Apostle Mark E. Petersen said in 1954, "It isn't that he [the Negro] just desires to go to the same theater as the white people. …it appears that the negro seeks absorption with the white race. He will not be satisfied until he achieves it by intermarriage… We must not allow our feeling to carry us away, nor must we feel so sorry for negroes that we will open our arms and embrace them with everything we have. Remember the little statement that we used to say about sin, 'First we pity, then endure, then embrace.'"
Then, like now, doctrines against marriage will perish and be forgotten. This is already a movement. Now that gay marriage is legal, Mormons will not be able to reconcile love of family values with the denial of these same blessings to an entire class of people.
As time moves on, and Mormons see their excommunicated siblings and children in happy marriages, with well-adjusted children, the Church's position will eventually topple.
Even now, this question is being tested. This year, a gay man, Taylor Knuth-Bishop, wrote an open letter to his bishop because he was up for excommunication for getting married. It went viral.
In my own city, Celeste Carolin has declared her intention to wed her girlfriend, and she will attempt to retain her Church membership. She attends an open and affirming ward that has unconditionally invited all LGBT Mormons to come back to Church. I've met her bishop. (He's my bishop, too.) I find it unlikely that he would willingly excommunicate her, though he may be pressured by higher leaders.
This controversy is about to ignite. And it can only end one way: Acceptance.
CORRECTION 7/1/2015: The LDS Church did not directly contribute money to the Yes on Prop 8 campaign, but instead encouraged members to donate, and it was member donations that were 50% of the funding (plus 80-90% of volunteer time in canvassing). The LDS Church itself donated $190,000 of undisclosed "in kind" value to the campaign.